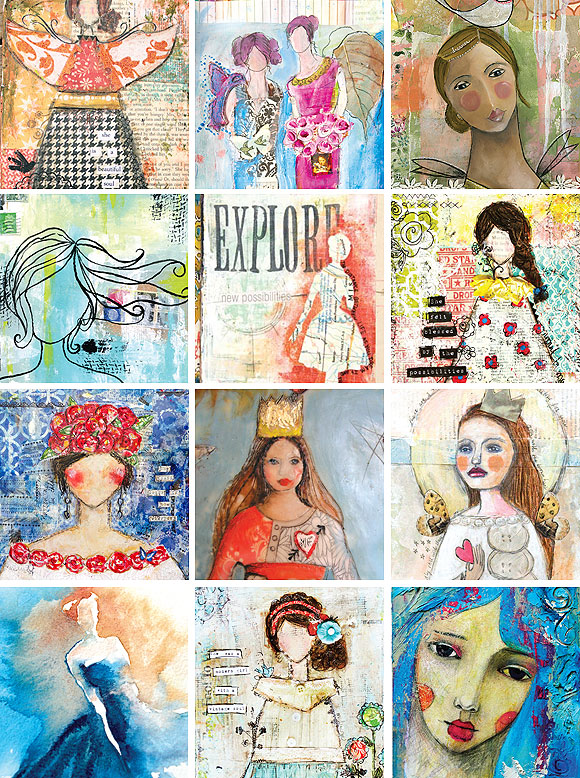 One of my favorite art journaling motifs is a whimsical silhouetted woman. Rich in decadent color or dainty and sweet in design, it's impossible not to be mesmerized by each artist's take on the portrait of a lady. To explore the many imaginative ways women can be represented in art, we've compiled a collection of some of our most artistic and treasured  pieces, created with beautiful, independent flair.
"…in this universe that is flawed and sometimes oh-so-rough, the great thing about the art I make is that it allows me to cast the brightest and most colorful attention to the most deserving innocent creatures of the universe."
– Suzi Blu, Artist's Café
Tip: "Allow your materials, such as old books and photographs, to inspire the images you choose to journal. Also, having a theme allows you to collect images and ephemera appropriate to that theme and helps get a page started."
– Kathleen Barnes Art Journaling
"Creating the layers and the grunge style opens up something inside of me that flies freely and breaks boundaries."
-Tamara Laporte, Somerset Studio
Tip: "A journal is a great visualization tool If there's something new and brave you want to do – like teaching a class or self-publishing a book – create a journal page announcing it. Then you'll be motivated to really make it happen!"
-Donna Mulholland, Art Journaling
"I have always loved art in one form or another – whether it was through wood fabric, paint, or jewelry."
-Christy Tomlinson, Artful Blogging
Tip: "If you don't like a page, don't give up on it…some of my favorite pages are ones that have been painted and worked over many times. The layers will make it more interesting."
– Patty Van Dorin, Somerset Apprentice
FREE Magazine Giveaway
[This giveaway has ended.]
If you're interested in learning how to incorporate the feminine grace from these beauties into your artwork, why not enter to win one of the magazines that they were originally featured in? We will pick 3 random winners to receive your choice of our favorite titles: Artist's Café 2011, Somerset Studio 2012, or Artful Blogging Autumn 2011.
To Enter:
From the grid of images above, pick your favorite painted, mixed-media, or other artful woman and explain why by commenting below!
Deadline to enter: Monday, Sept. 9th
*Winners will be contacted via email
Quick Reader Poll:
What is your favorite theme to experiment with and incorporate into your artwork? Do tell!
Posted: Monday, August 12th, 2013 @ 12:03 pm
Categories: Contests and Giveaways, How-To Project Tutorials, Uncategorized.
Tags: art, Art Journaling, Artful Blogging, beauty, color, Giveaway, journal, Mixed Media, painting, Somerset Studio, whimsical, woman, women.
Subscribe to the comments feed if you like. You can leave a response, or trackback from your own site.