Managing Editor Cynthia Levens sat down with Stampington & Company's editorial team to discuss the best methods for submitting artwork to our publications, so you can increase your chances of being published. Here, she offers their tips for getting noticed by the panel that reviews incoming submissions, with everything from pitching ideas, to labeling your artwork, to communicating with your editor.
How do I get published? What are the secrets to getting published?
The 1-2-3 of it is to create eye-catching original artwork; include the properly labeled artwork, return postage, and brief instructions in your mailing package; and send it to our offices before the deadline.
The "4-5-6" of it can be found at stampington.com/submissions.
As for secrets, well, there really are no foolproof secrets; but, we as editors can share with you some valuable tips that you won't find anywhere else.
Artwork
Think outside the box! We love creative submissions. Feel free to email your editor to pitch an article idea before submitting to see if you are on the right track.
Know the publication. Take a look at the latest issues to get a feel for the style of artwork, what we're looking for, and what creative ideas you can bring to the table.
If you've been published more than once, remember to submit art that shows your evolution as an artist or an alternative technique.
Labeling & Paperwork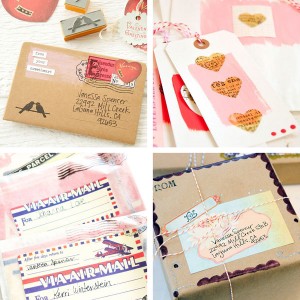 Each and every one of your submissions needs to be individually labeled with your name and contact information. A submission with more than one piece may be divided into different articles or even amongst different magazines; organization is key!
Carefully wrapped packages with concise instructions go a long way. Your editor will send you information for writing the full article after you've been chosen for publication.
If your artwork has specific photography needs or props, make sure to let us know.
Attaching decorative labels and tags will make your submissions stand out. Even if your artwork is not selected for an article, your artful tags could be chosen for an article of their own.
Before You Submit
Snap a quick photo of your work before you mail it in for your records. If you're a frequent submitter, or you've submitted multiple items, it can be easy to forget what you've sent in when it comes time to write instructions.
Keep an electronic document of the information that you send in with your submission; it will come in handy when writing the article.
Make sure you give your project enough time to dry/adhere before mailing it. If this is ever an issue and you feel you are cutting it close to the deadline, email your editor for other options.
Photo Submissions
We need your submitted images to be hi-res, 300 dpi, and at least 8″ x 10″.
Make sure we can see the details of the project and what makes it unique from the photos.
When submitting parties or gatherings (Mingle magazine), go through all of your images and select and send the ones you think fully capture the event's essence. More than 30 images is too many.
A great way to submit images is via a file-sharing website. We suggest Dropbox.com or WeTransfer.com.
Be sure to check out our guide for sizing and submitting photos here, to make sure they are large enough for print.
Deadlines
Each of our magazines has a different publication schedule and different submission deadlines, which you can find here: https://stampington.com/calls-and-challenges.
Mail your submissions so we receive them ahead of the deadline. This greatly helps your editor and art management, and this ensures your artwork will be considered for the first available deadline.
Pitching Ideas/Communicating with Your Editor
When pitching an article idea, always be prepared with visuals. If you approach us with just an idea, we will ask you to come back to us with artwork or visuals to support the article. If you take the time to write us with an idea and provide examples of what the artwork or photography will look like, it's much easier for us to envision whether or not the idea will work in our magazines.
Remember that editors are very busy. We are often juggling several magazines at one time, all in various stages of production. As much as we'd love to answer every email as soon as we receive it, sometimes it might take us a couple of days to get back to you. If you haven't heard back from us, feel free to send a follow-up email.
When contacting editors regarding a submission, always update your subject line and be specific (including an image of the item helps us out a lot!). We want to answer your questions as soon as possible, and this will ensure that.
And above all, don't get discouraged if your art isn't selected. There are many reasons why something is or isn't selected. We might have recently published something that looked similar or that used a similar technique. We might have too many pieces in a certain color palette going into one issue. Many of our most frequently published artists will tell you that their first submissions were not selected but they kept at it. Now many of them have books, product lines, and more!
To find out what we are looking for currently, read our Calls and Challenges page.
If you're ready to submit, guidelines can be found here.
For any additional questions, email submissions@stampington.com.
Cynthia Levens is the Managing Editor of Altered Couture, Belle Armoire Jewelry, Where Women Create, and Belle Armoire. 
Posted: Friday, April 10th, 2015 @ 11:00 am
Categories: Artwork Submissions.
Tags: how to get published, tips for getting published.
Subscribe to the comments feed if you like. You can leave a response, or trackback from your own site.