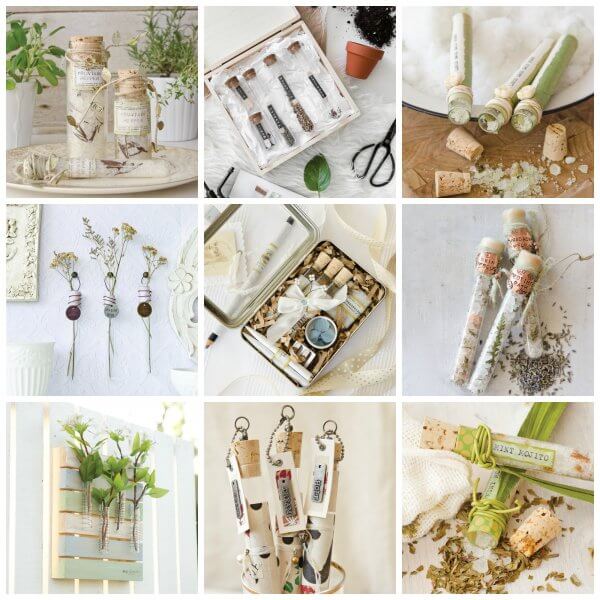 We've assembled 13 artful projects that highlight working with test tubes; gather inspiration and a fresh take on what is possible with these versatile, little vials! Featured here is everything from salt soak vials and gifts to decor and garden kits.  Have you ever used test tubes for a unique project? Send your creative projects and ideas that include test tubes to marketing@stampington.com for a chance to get your ideas featured in an upcoming post!
1) Blossoms and Bud Vases
These darling bud vases are a quick and easy project that can be hung in a window to catch the light and to decorate your home with a spare blossom or bloom. View project here. 
2) Jasmine Flower Tea & Spearmint Bath Salt Vials
There are many benefits to using jasmine tea as this tea has therapeutic properties, plus they are simply lovely. In this project Melinda Barnett pairs jasmine blossoms, jasmine essential oil, and spearmint because of the similar properties, which turned out to be an excellent self-care treatment and these vials make a wonderful gift! Read more inside the Winter 2018 Issue of Willow and Sage.
3) Herb Garden
Andrea Handojo's love for gardening and DIY projects lead to this herb garden kit that is perfect for spreading the gardening love. All you need is herb seeds, a wooden box, and test tubes of course! Read Andrea's tutorial and tips inside the Winter 2018 Issue of Somerset Life.
4) Vanilla Jasmine Lime Bath Salts
While exploring the three notes of a perfume Melinda Barnett realized that bath salts rarely have more than one or two notes; so she set out to create a bath salt with all three. In creating this three-note bath salt Melinda also upcycled decorative flowers, glamorizing these vials. See the entire tutorial inside the Summer 2017 Issue of Willow and Sage.
5) Lemongrass Sage Salt Soak Vials
Melinda Barnett loves this lemongrass and sage combination for it's fabulous scent. This project is a lovely affordable indulgence, simply create, adorn, and exfoliate; read the tutorial inside the Winter 2017 Issue of Willow and Sage.
6) Garden Salt Soak Vials
Take your test tubes to the next level with these etched tags. Not only can you gift the luxury of relaxation, but you can personalize your salt soak vials with this tutorial. Read more inside the Winter 2017 Issue of Willow and Sage.
7) Citrus Salt Soaks
Citrus scents are always so fresh and clean they are appropriate any time of the year. Melinda Barnett came up with three different salt soak recipes for her article in the Autumn 2016 Issue of Willow and Sage. Create these recipes and pamper or self or a loved one!
8) Mountain Pepper Salt Soak
The exquisite May Chang, or mountain pepper, is reminiscent of ripe lemons; however, it also possesses a woodsy anchoring note, making it an excellent addition to almost any citrus-based salt soak recipe. Read Melinda Barnett's tutorial inside the Summer 2016 Issue of Willow and Sage.
9) Rosebud Bath Salts
Mix Epsom salt and rosemary and share the benefit of salt with a friend with this repackaging gift idea inside the Winter 2015 Issue of Willow and Sage. While you are there learn the scoop on salts!
10) Jackets for Decor
Armed with some yummy collage scraps L. Katherine Roberts decided to collage test tubes with her leftovers. Pair these tubes with a gifted book, serve as a small appreciation gift, or stocking stuffer! Learn more about the project inside the Autumn 2017 Issue of Somerset Life.
11) Creative Minds Tool Box
Saddened by the thought that some creative minds may be neglecting their calling, L. Katherine Roberts was inspired to put together this tool box featuring items to engage the creative mind. This mini-assortments of sketching supplies is a prompt project that get the imagination going! Read the tutorial inside the Spring 2015 Issue of Somerset Life.
12) Belle Jardiniere Painted Pallet
Aiming to do something a little different, Jennifer Taylor wanted to create home decor that could also display flowers, fresh or dried. Learn how she created this wonderful piece from a little Milk Paint, a pallet, and some test tubes inside the Spring 2015 Issue of Somerset Life.
13) Hot Chocolate in a Tube
If you're short on time during the holidays but want to gift a handmade item this hot chocolate project is for you! Add hot chocolate, marshmallows, a pretty fabric scrap, and gift this cozy project to your loved ones! Pick up the Autumn 2014 Issue of Somerset Life for more creative living ideas.
We hope you've enjoyed this roundup of projects that showcase a variety of projects that feature test tubes.
Have you ever used test tubes in a unique way? Share your project in the comments below or email your ideas to marketing@stampington.com for a chance to be featured on the blog!
Posted: Friday, August 17th, 2018 @ 3:32 pm
Categories: Homemade Bath and Body, Uncategorized.
Subscribe to the comments feed if you like. You can leave a response, or trackback from your own site.