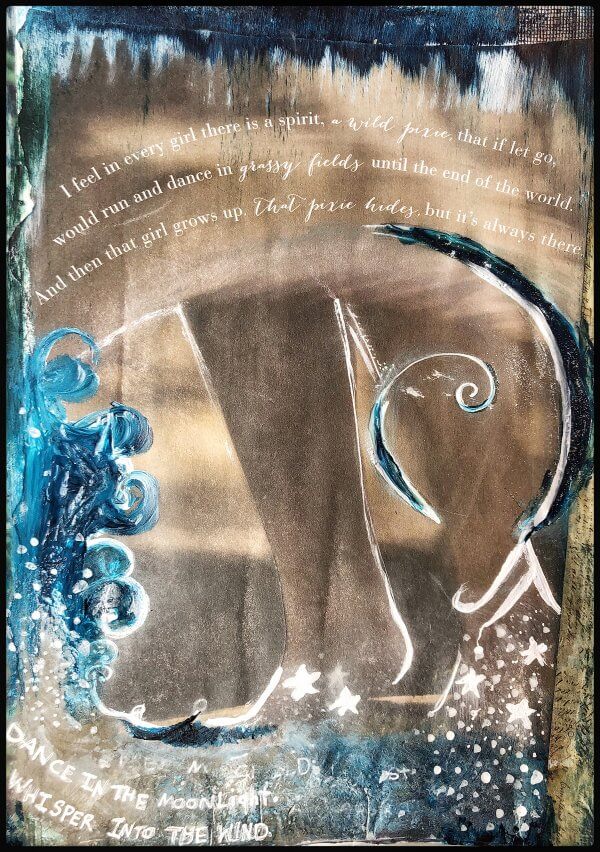 Please join us in welcoming guest artist April Martin to Somerset Place! April has been published in many of our titles, including the October issue of Art Journaling.  Today, she's sharing with us not only her process of creating an art journal, but also how creativity breeds positivity.
Hello my new friends!
I am so grateful that I get the chance to spend some time with you here at the Somerset Place.  It is very much of an honor for me to get to the opportunity to inspire each and every one of you!  My goal for our time together today will be to try to dust of the winter blues you might be feeling already and get you rocking and rolling with some creativity talk today. When I started teaching classes at a local art store in Louisville Kentucky I noticed that it wasn't technical skill that people were in need of. No, what people needed was the room and the permission to be creative. What flowed so easily and abundant in me, I quickly realized, did not in most people.
Most people, for whatever reason or another, have shut themselves off to their creative flow. Trust me guys it is still there, you just have to remember to make time and space for it!
Creativity is the bridge that we can walk on
when our words cannot express what we need to say.
We all need some form of expression to feel alive. When I first got into art journaling, it was before it became pretty mainstream, so I had no idea what I was doing. I was a writer, I would fill page after page of visions of my future, or what was bothering me that day.
So what I was ended up with was a feeling of resenting my current situation, or I was too busy focusing on the negative … which still made me resent my current situation. I felt like I was always marinating in negativity.
In other words, journaling in the traditional style made me feel unhappy.
Why?
Why wasn't this working for me? Because, I was focusing on the wrong things, and since I knew I was stuck in the negativity loop I knew something had to change.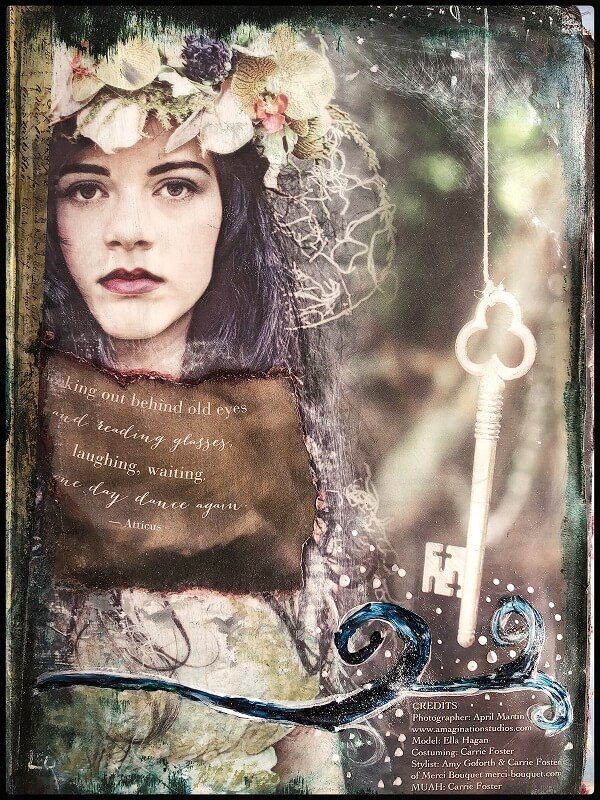 I started out using Moleskine notebooks as my art journals.  I remember being so excited for the day they would bust and need to be rebound. That was a very exciting time for me. It really took the look of the art journals to the next level.
Changing my perspective to focus on the art, along with a few essence words of what I wanted to say helped me create a safe, therapeutic place to go everyday, where I would pause and take time for myself.
Much like how you feel when you come to Somerset Place to get inspired and learn about an artist you enjoy, you should also feel that way when you sit down with your art journal. It is a perfect self- discovery tool, so why not make it as special as you are?
Even the days that I feel sad or feel put upon, if I take it to my art journal I am making something beautiful. I am focusing on beauty, not negatives. The thing about art journals is there is no right or wrong way to do it. It is about you connecting with … you.
Your thoughts, feelings, and emotions raw.
Uninhibited on the page.
I still get impressed when I am teaching and I see the different styles that everyone has. My style, I would say, is rich in textures. I am very big on sensory play.
But when I work with diverse communities, using different textures and the interactive qualities that the art journal has is a big hit.  I am quite messy and chaotic when it comes to my actual journaling process.
Most of the time, I do not have a plan other than an urge to create.  This is why practice is so very important. The more that you can set down and find time to work on your art, the more natural and easier for you to freely flow ideas with no prep time. The biggest hurdle is actually starting: to make the time for yourself. If you can trust yourself to show up to this then you will start trusting yourself to show up in other areas of your life as well.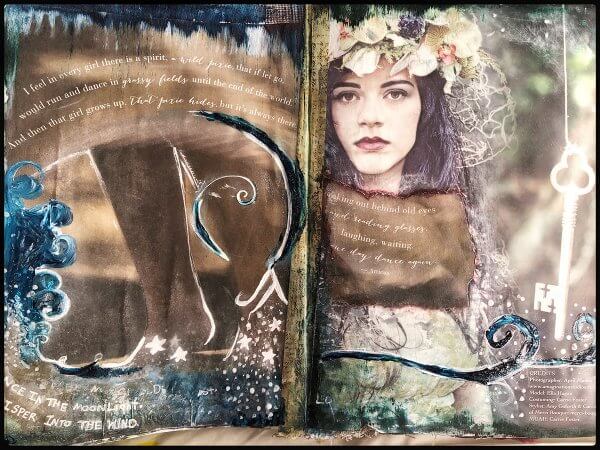 When I sat down to make a two page spread in my art journal, I chose to use as image from Bella Grace because it matched the words and emotion perfectly to what I was trying to convey in the image with the girl in the picture.  The image is special to me because it is a tear sheet from one of the first magazines that I was published in.  I felt that I needed a special image to go with a memory that was so dear to me.
Many of the Somerset Studio magazines speak to me on a professional and personal level, as I am sure they do to you as well.
Some of my favorites that I tend to line my bookshelves with …
Bella Grace,
Art Journaling,
Artful Blogging,
Digital Inspiration,
Somerset Digital Studio,
The Coloring Studio and Where Women Create
… have been staple reading material of mine for years; always helping me along in my artistic journey. Bella Grace was exactly what I needed for this particular project.
Materials: 
I love art and writing supplies. So, I am always on the lookout for some new fun and special products.  I have listed some products that I have used for this specific project along with some fun websites where you can find them.
Don't forget to stop by and see what The Shoppe at Somerset has to offer as well.
Fine Tec Watercolors
I love working with these fun pallets. I get lost every time I see the shimmery sparkle in the water as it washes across the image.
Liquitex Products:
I love Liquitex products and what I chose to use for this project are the:
Liquitex Ink:  Acrylic Ink in Muted Turquoise
Liquitex Heavy Body Acrylic in Muted Turquoise
Liquitex Heavy Body Acrylic in Muted Green
If you have not had the chance to play around with the muted collection yet, I highly recommend them.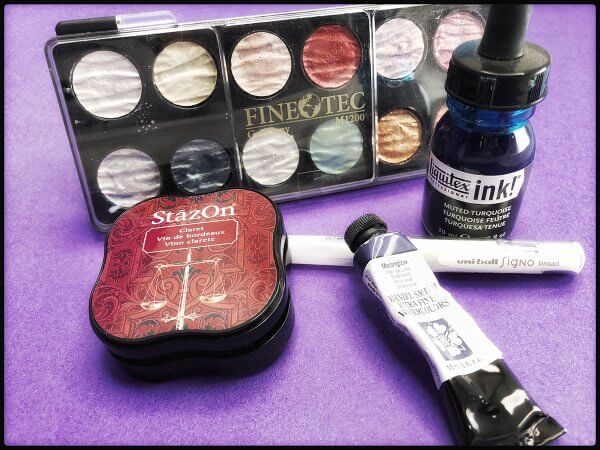 Staz-On Ink pad
http://www.tsukineko.co.jp/english/detail/stazon/
Uni-ball Signo White Pen
This is to date my favorite white pen.
Page Prep and Color
To make this spread, I started off a little differently than normal.  Typically I would start with a laying down gesso first. However, this time I:
Started off by gluing down my pages just like if you were doing a collage.
Next, I added a thin overcoat of Liquitex Clear Gesso
I knew that I wanted to still see most of the image that I am working with but needed the protection, so I went with a clear gesso.
I hurried the drying process along with a hair dryer. I went in knowing that I wanted to preserve most of the image so I chose to use light doodles that expressed to me the flow and the freedom that the images themselves conveyed.  I stuck with a color pallet the went with the nature feel of the images. I chose blue because it reminded me of the ocean and sky, which to me felt like a nice balance with the green.
Just remember when you are creating your page to relax and enjoy the process. It should always be done with a learning mindset.  Enjoy this moment, right where you are.
Self-compassion and patience goes a long way, so remember the more you practice using your imagination and strengthening your creativity muscles the easier it will be to literally pull an idea from thin air.
Thank you my friends for spending some time with me today.  If you have any questions, comments, critiques or suggestions please feel free to reach out.   Until next time…
April
April Martin lives near Louisville, Kentucky, with her husband and two teenage boys.  She owns and operates Amagination Studio, a small artisan company; although, she spends most of her time writing and creating art for different festivals and conventions.  She is currently working on her Quiet Minds workshops, workbooks, and companion art pieces, which describe her personal experience with transformation through meditation and creativity.  April currently teaches art journaling classes near her home at Preston's Art Center.   She can be found on Facebook (Artist April Martin), Instagram (@aprilmartin78), or on her website at amginationstudios.com and at thehivebg.org.  She welcomes email at april@amaginationstudios.com
Posted: Friday, December 21st, 2018 @ 5:00 pm
Categories: Art Journaling, How-To Project Tutorials, Uncategorized.
Subscribe to the comments feed if you like. You can leave a response, or trackback from your own site.