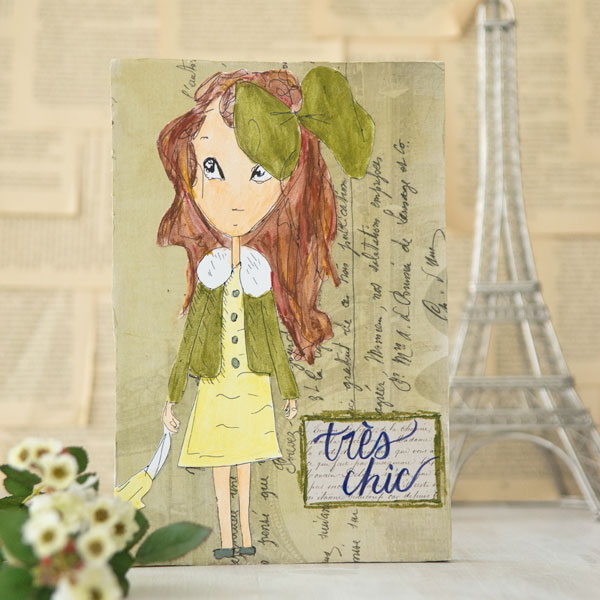 We had so much fun testing out the latest trend in adult coloring: water-soluble coloring tools. In today's post, you'll learn how to make this charming "Trés Chic Canvas" that puts these these popular color tools to use.
Supplies:
Trés Chic Canvas Project
Attach a piece of patterned paper to a canvas or wood substrate with gel medium.
Using a plastic palette, scribble olive green Distress Crayon, then blend with water until it is the consistency of a watercolor. Brush over entire patterned paper, adding more color to the palette as needed to create a soft green.
Cut out girl from The Coloring Studio and adhere to the canvas with gel medium.
Hand-letter "Tres Chic" on a patterned paper scrap with Tombow Brush Markers. The amazing hand-lettering in this project is courtesy of Wile'e Malia Gillespie.
Adhere sentiment to corner of the canvas and add a few strokes of the Distress Crayons to give it a mixed-media style border.
How do you like to use water-soluble color tools? Leave a comment to inspire our community below!
Posted: Friday, August 26th, 2016 @ 11:51 am
Categories: Adult Coloring Trend, How-To Project Tutorials.
Tags: Adult Coloring Trend, coloring, coloring book, Distress Crayons, Distress Crayons by Tim Holtz, Faber-Castell gelatos, gelatos, Prima Marketing Oil Pastels, Ranger Ink Distress Crayons, Tombow Dual Tip Brush Markers, Water-soluble coloring tools.
Subscribe to the comments feed if you like. You can leave a response, or trackback from your own site.