The latest trend in adult coloring has to be water-soluble coloring tools. Gelatos, Distress Crayons, and Prima Marketing's Oil Pastels all blend with water and promise smooth, creamy color — but which of these really deliver?
Supplies:
Lead Image Credit: Page by Madeleine Sibthorpe from The Coloring Studio, which is colored using all three of the water-soluble coloring tools.
The Results
Water-Soluble Oil Pastels
These oil pastels were extra-soft and very easy to work with. They can be used as a regular oil pastel, or you can mix them with water to create watercolor effects. I used the oil pastels on her hair, skin, and shoes.
Wet Blend= I used the wet blend technique on both the hair and skin with very different effects. The skin is a solid color, and I blended it thoroughly to create a nice peachy complexion. To achieve this, I used very light pressure while coloring her face and used the broad side of the pastel, rather than the tip. This made it easy to blend without leaving stroke marks.
For her hair, I did the opposite. I used hard pressure and made random strokes in 4 different colors to create a very dimensional look to her hair (see Before and After images below for more details). When blending, I used very little pressure with the brush and didn't overdo it. I used just enough water to make the colors bleed into each other, and barely passed over them with the brush, but leaved most of the strokes intact.
Dry Blend= A dry blend for these pastels doesn't even really require blending. For her shoes and buttons, I just drew them in and made sure that I used enough pressure to create opaque color. If you are adding details without wet blending, I recommend finishing all your wet blended areas first and letting them dry completely to avoid bleeding the dry colors.
Distress Crayons
Distress Crayons have a much waxier texture than gelatos or water-soluble oil pastels. I also noticed that they leave darker and lighter areas when coloring with them. They are great for mixed-media because they adhere well to all surfaces, but in coloring, I would always recommend blending them with water to get a smoother color.
Wet Blend= The finished result of the wet blend is still a little bit uneven, but it has a luxuriously matte finish that looks soft and is textured to perfection. Distress Crayons take slightly more time to dissolve, so a few extra strokes with the brush were necessary to get a smooth appearance.
Dry Blend= More is more with Distress Crayons. In order to get a smooth color when blending with just a blending tool or makeup sponge, you will need to make sure that you have enough pigment to work with. Color thoroughly, then blend away the excess to get a smooth texture. At the end of the process, I could still see some stroke marks, so I also used a smudger tool to get into the teeny, tiny nooks and crannies of this coloring page.
Gelatos
Gelatos are great for covering a large area of a coloring page and work excellently with either a wet or dry blend.
Wet Blend= Gelatos blend easily with water and look just like watercolor when finished. If you want to avoid all strokes or unevenness, you can even use a waterbrush to pick up color from the end of a gelatos stick and transfer it to the page just like watercolors.
Dry Blend= Gelatos is definitely the winner when comparing dry blends. They smooth out easily with a blending tool and create a nice, smooth finish. Gelatos were the only tool that truly could be blended without water to create even color.
I think the biggest surprise of this little experiment is that all three needed blending in order to look "finished." Below is the below and after images to prove this. The pre-blended image shows a lot of strokes and plenty of white space in between each line. However, Faber-Castell Gelatos, Tim Holtz Distress Crayons, and Prima Marketing's Oil Pastels all responded well to water and blended smooth with just a brush or blending tool.
The most impressive result was the hair on this piece. You can see that the random streaks of color that look very haphazardly done in the before picture ended up looking very polished and dimensional when blended lightly with water.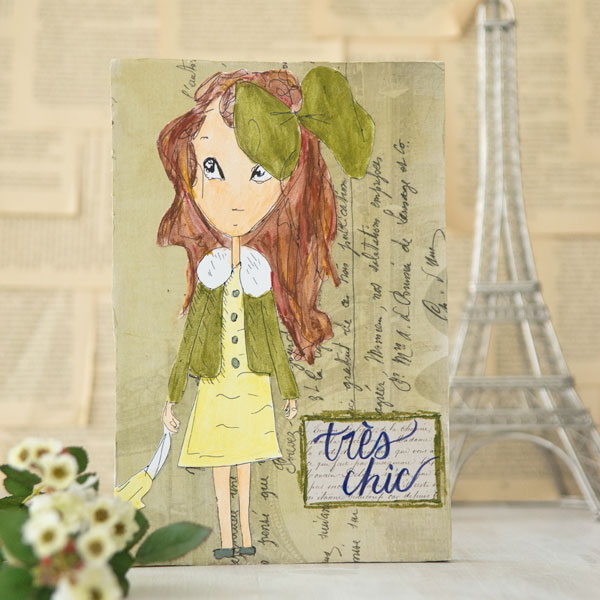 Click here to view the Trés Chic Canvas Project Tutorial.
What are Your Favorite Color Tools to Use? Leave a Comment Below!
Posted: Monday, August 29th, 2022 @ 3:38 pm
Categories: Adult Coloring Trend.
Subscribe to the comments feed if you like. You can leave a response, or trackback from your own site.